(2012) 9:3 SCRIPTed 274–386
Issue DOI: 10.2966/scrip.090312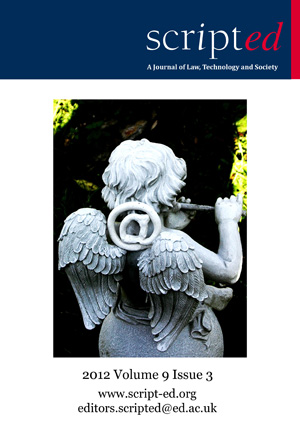 Cover image
The @ngel of the Digital Era
Anna Maria Lopez Lopez

I believe that we are never alone in this world, real or digital, that's why I wanted to represent an angel of digital world with the @ symbol.
---
Editorial
---
Reviewed Articles
Engineering Compliant Software: Advising Developers by Automating Legal Reasoning
Daniel Oberle, Felix Drefs, Richard Wacker, Christian Baumann, Oliver Raabe, pp.280-313
| HTML | PDF |
The impact of software on human interactions is ever increasing. However, software developers are often unaware of statutory provisions that regulate human interactions. As a consequence, software is increasingly coming into conflict with such provisions. Therefore, this paper contributes an approach for advising the developer in designing software that complies to statutory provisions. The approach relies on the formalisation of statutory provisions and semi-automated legal reasoning assisted by the developer.
Legal Challenges Posed by Online Aggregation of Museum Content: The Cases Of Europeana and the Google Art Project
Vagelis Papakonstantinou and Paul de Hert, pp.314-339
| HTML | PDF |
Museums are, in most cases, publicly-owned holders of vast amounts of information that are, by definition, open to everyone. Location restrictions, however, usually limit public access. The Internet could change this: once museums digitise their collections and upload them onto their Internet sites, online access would be possible for anyone, anywhere. The difficulty in this case would be that there are practically thousands of museums around the globe, ideally each maintaining its own Internet site. Users therefore face substantial difficulties when conducting research online. From this point of view it is probably a self-evident development to aggregate online museum content in a single website, in order to facilitate user access. This explains the initiatives, for instance, of Europeana from the public sector and the Google Art Project from the private sector – each one in terms of content volume and user exposure holds a pre-eminent position among its (Internet) peers. These initiatives, however, are disruptive, both as regards business methods and legal systems, challenging traditional notions and treading at the borders of well-established legal principles and long-serving rules and regulations. This article discusses the legal issues raised by the contemporary aggregation initiatives of museum content over the Internet, by reference to the above two initiatives. Questions relating to copyright, the sui generis database right, as well as, the issues of systems' interoperability, public sector information and restitution will be addressed in the analysis that follows.
---
Analysis
Being Unexceptionalist Or Exceptionalist – That Is The Question
F. Willem Grosheide, pp.340-353
| HTML | PDF |
This article considers whether it is desirable and, if so, will be possible to regulate Cyberspace. It departs from the Goldsmith/Post-debate, dating back already to the 1990s, which introduced the juxtaposition of what became known as the Unexceptionalists (opting for some form of adapted real world regulation) and the Exceptionalists (opting for, if any, a specific form of regulation). With reference to societal developments which illustrate that through the ages it has appeared possible to invent new legal models for the regulation of no man's lands, the high seas, and international transborder trade, this article takes the Unexceptionalists-view, arguing that Cyberspace is best understood as a networked space, connected to the real world space and inhabited by natural persons as its users and understandable by experience.  Albeit, that in doing so, it is desirable to follow a tailor-made approach.
Criminal law and Cyberspace as a Challenge for Legal Research
Bert-Jaap Koops, pp.354-366
| HTML | PDF |
The Internet transforms crime and crime-fighting, which has fundamental implications for the law and legal research. Since online and offline activities are seamlessly integrated, cybercrime is no longer a specialist field but affects the core of 21st-century criminal law. The transformation of crime exposes gaps in substantive and procedural criminal law, creating three types of challenges. First, regulatory challenges, e.g., how to deal with sovereignty and jurisdiction conflicts in borderless cyberspace. Second, normative challenges, such as value conflicts related to Internet content. Third, technological challenges, related to secure computing and value-sensitive design. The interplay of these challenges should lie at the heart of criminal-law research in the cyberspace age.
Classic legal research often addresses problems in a one-dimensional manner: the law is taken as a given and then applied to a societal issue, or a social development is used to argue why and how the law should change. However valuable such research can be, legal research needs to factor in the role that technology increasingly plays in law and society, as well as the process of the mutual shaping of regulation, technology, and society. This calls for multidisciplinary research aiming for prudent solutions to regulatory problems. If criminal law is to stay abreast of the 21st century challenges of crime permeated by cyberspace, dogmatic understanding of the criminal law system itself no longer suffices. Rather, researchers need to be well-versed in regulation theory, adopting concepts like the regulatory tool-box and multi-level governance, to meet the challenges of globally, digitally networked crime.
Law in the Digital Era
Tina van der Linden, pp.367-375
| HTML | PDF |
This paper revisits the discussion on "Cyberanarchy" between the unexceptionalists (with Jack Goldsmith as their spokesman) and the regulation-skeptics (represented by David G. Post). The latter's "scale matters" thesis is illustrated briefly for copyright law, privacy and freedom of expression. The conclusion is that scale matters indeed, and that "old" legal solutions need reconsideration.
---
Reports
---
Book Reviews