(2012) 9:2 SCRIPTed 108–256
Issue DOI: 10.2966/scrip.090212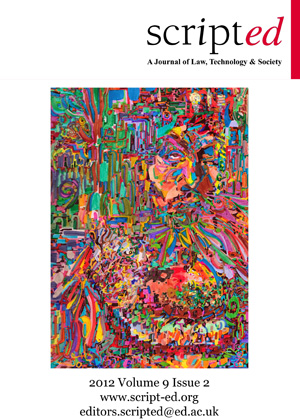 Cover image
A robot imagines a Big Mac
Josh Byer

What inspires me as an artist – I've been painting non-stop since a deathbed conversation I had with my mother."Don't wait," she said. What inspired me for this specific image was that some day soon, silicon "cashiers" will indeed dream of Big Macs. Perhaps it is all they will dream of.
---
Editorial
---
Reviewed Articles
---
Analysis
Football DataCo v Yahoo! The ECJ interprets the Database Directive
Perrtu Virtanen, pp.258-267
| HTML | PDF |
This paper briefly discusses the recent Football DataCo v Yahoo! C-604/10 decision by the Court of Justice for the European Union on the interpretation of Database Directive 96/9EC which concerns the harmonised copyright scheme for original information collections provided by the Directive.
---
Reports
---
Book Reviews