(2011) 8:3 SCRIPTed 226–339
Issue DOI: 10.2966/scrip.080311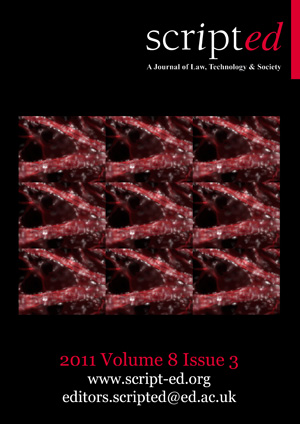 Cover image
---
Editorial
---
Reviewed Articles
Forgetting Footprints, Shunning Shadows. A Critical Analysis Of The "Right To Be Forgotten" In Big Data Practice
Bert-Jaap Koops, pp.229-256
| HTML | PDF |
The so-called "right to be forgotten" has been put firmly on the agenda, both of academia and of policy. Although the idea is intuitive and appealing, the legal form and practical implications of a right to be forgotten have hardly been analysed so far. This contribution aims to critically assess what a right to be forgotten could or should entail in practice. It outlines the current socio-technical context as one of Big Data, in which massive data collections are created and mined for many purposes. Big Data involves not only individuals' digital footprints (data they themselves leave behind) but, perhaps more importantly, also individuals' data shadows (information about them generated by others). And contrary to physical footprints and shadows, their digital counterparts are not ephemeral but persistent. This presents particular challenges for the right to be forgotten, which are discussed in the form of three key questions. Against whom can the right be invoked? When and why can the right be invoked? And how can the right be effected? Advocates of a right to be forgotten must clarify which conceptualisation of such a right they favour – a comprehensive, user-control-based right to have data deleted in due time, or a narrower, context-specific right to a "clean slate" – and how they think the considerable obstacles presented in this paper can be overcome, if people are really to be enabled to have their digital footprints forgotten and to shun their data shadows.
Music and Dance: Beyond Copyright Text?
Charlotte Waelde and Philip Schlesinger, pp.257-291
| HTML | PDF |
Are experiential, experimental forms of music and dance beyond protection by copyright? If they are, how might these art forms best be protected by cultural policy and cultural economics? These were the key questions that we set out to investigate with the support of a Beyond Text grant from the Arts and Humanities Research Council and with the help of our network members where together we formed an interdisciplinary team comprised of experts in copyright law, cultural policy, cultural economics, dance and musical composition. Through a series of interviews with musicians, singers, songwriters, composers, dancers, choreographers and others involved in the music industry and dance community we came to the conclusion that these types of works are both before copyright and beyond copyright. They are before copyright because what matters to the majority of those involved is the process of creation – which itself is constantly evolving – rather than the product – the protected work once fixed. They are beyond copyright because key aspects of the performance involve contributions which are not recognised by copyright, and because there is much about the performance which simply cannot be captured in the mechanical sense. As a result, policy intervention, which focuses on the product rather than the process, becomes problematic. This article suggests a series of practical recommendations made by our interviewees for ways in which the art forms may be supported into the future.
We are grateful to all of our interviewees, some of whom feature in our documentary Performers on the Edge, published in Audiovisual Thinking: the journal of academic videos, and who have remained in touch and contributed extra evidence to this project which can be found on our project website, and who joined us at our dissemination event in September 2011 in Glasgow.
---
Analysis
Challenges for Free Access to Law in a Multi-Jurisdictional Developing Country: Building the Legal Information Institute of India
Graham Greenleaf, VC Vivekanandan, Philip Chung, Ranbir Singh and Andrew Mowbray, pp.292-316
| HTML | PDF |
This article analyses the complexities involved in providing free public online access to the "public legal information" of the Indian legal system. It starts with some of the causes of the complexity of Indian legal information then describes the considerable progress that has previously been made in the provision of free access to some types of legal information, but why the result is still below international standards. The article then explains a project to remedy some of these deficiencies, the Legal Information Institute of India (LII of India), being carried out by eight Indian law schools and an international partner. It has developed in its first year of public operation, the LII of India, a system with over 750,000 searchable documents and 151 databases. The considerable remaining challenges for creation of a world-standard and sustainable system are then outlined, and steps proposed to address them. The extent to which this collaborative project might be a model for development of free access to legal information in other countries is considered.
By "public legal information" we mean that information which, as a matter of public policy, ought to be available for free public access in a society which values democracy and the rule of law. This has been argued elsewhere to include legislation, case law, treaties a country has entered into, reports proposing reform of the law, and such legal scholarship as authors have chosen or are required to make freely available to the public. For the purpose of this article, this definition is assumed.
India's New Data Protection Legislation: Do The Government's Clarifications Suffice?
Raghunath Ananthapur, pp.317-322
| HTML | PDF |
After giving an introduction to data protection legislation in India, the author analyses the latest round of regulations to arise out of that country. This is important because India has started gaining prominence in the outsourcing business from European Union countries.
---
Reports
Regenerative Medicine Goverence: The EU Experience and Argentine Possibilities
Shawn H E Harmon, pp.323-328
| HTML | PDF |
---
Book Reviews