(2011) 8:2 SCRIPTed 120–225
Issue DOI: 10.2966/scrip.080211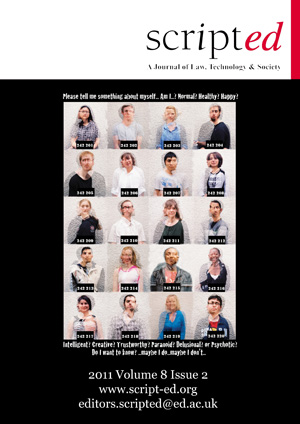 Cover image
Normality
Lasani S Wijetunge

Neuroimaging has become a sophisticated tool that can be used to understand how our brain activities lead to higher order cognitive functions, such as thoughts and perceptions, as well as to examine what happens in the diseased state. In the future, if a neuroimage of your brain were to be used as a signature of you, your thoughts and actions-whose neuroimage would you compare yours against to determine whether your brain activities are 'normal'?
---
Editorial
Twitter Chip
Simon Biggs, pp.120-123
PDF
Simon Biggs gives an interesting perspective about cyborg-like technology, such as brain implants and augmented reality spectacles. It may seem like science fiction, but these are technologies that are closer than you imagine.
---
Reviewed Articles
---
Analysis
India's new Data Protection Legislation
Raghunath Ananthapur, pp.192-203
PDF
With the increase in importance of the outsourcing business in India, there has been extensive discussion regarding the absence of Indian data protection legislation, and how this may impact the flow of business from European Union companies. India has, in the past, attempted to enact data protection legislation, but for some reason it has never seen the light of day. India has recently notified regulations relating to protection of sensitive personal data. This article examines the Indian regulations, contrasting their provisions, at certain points, with the UK Data Protection Act 1998.
Brain imaging, the legal process and neurofantasy; can it be cured (by applying the principles of evidence – based medicine)?
Peter Sandercock and Joanna Wardlaw, pp.204-211
PDF
Advanced brain imaging techniques, originally designed for medical and basic science research purposes, are now being applied in a much wider range of settings for very diverse purposes. There is a concern that some of the exaggerated claims for the utility of these technologies in these new settings, combined with their inappropriate use (or uncritical interpretation) may lead to a variety of unintended and sometimes adverse consequences. We propose that the principles of critical appraisal, developed for assessing medical technologies (so called 'evidence-based medicine'), might usefully be applied to reduce the risk of such unintended consequences. In this article, we discuss how these principles might be relevant to the application of neuroimaging techniques to various aspects of the law and the legal process.
---
Reports
---
Book Reviews