(2009) 6:1 SCRIPTed 1–193
Issue DOI: 10.2966/scrip.060109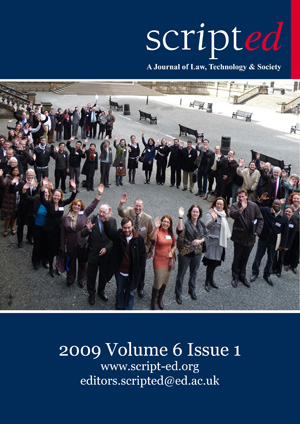 Cover image
6
Wiebke Abel, Shawn H.E. Harmon and Yolande Stolte

The number 6 represents the number of years that SCRIPTed has been in existence and publishing quality scholarship. This photo of a human 6 was taken at the SCRIPTed conference, "Governance of New Technologies", held in Edinburgh on 29-31 March 2009, and shows some of the conference delegates.
---
Editorial
After Marper: Two Readings, Two Responses
Roger Brownsword , pp.1-3
PDF
This editorial responds to the important case of S and Marper v The United Kingdom (2008) in which the European Court of Human Rights held that the law that authorises, in England and Wales, the taking and retention of DNA samples, together with the making and retention of identifying profiles for criminal justice purposes, is disproportionately broad, a conclusion which contradicts two domestic appellate panels.
---
Reviewed Articles
---
Analysis
---
Reports
So What are Sports' Legal Rights and Wrongs? Report of the AHRC SCRIPT Murrayfield Discussions
Abbe E. L. Brown, pp.155-159
PDF
Governance of New Technologies: The Transformation of Medicine, Information Technology and Intellectual Property. Final Conference Report
Shawn H.E. Harmon and Wiebke Abel, pp.160-170
PDF
---
Book Reviews