(2008) 5:3 SCRIPTed 449–629
Issue DOI: 10.2966/scrip.050308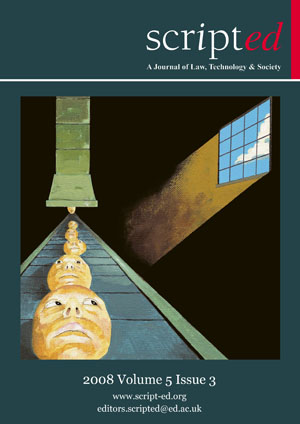 Cover image
Artificial Intelligence
Rebecca Junkin

Widespread reliance on artificial intelligence, a common theme in speculative fiction, is closer than many might believe.  This rather macabre image – acrylic paint on canvas which has been scanned and photoshopped – depicts an automated manufacturing process for synthetic faces believed to be inert until integration.
---
Editorial
AI & Law on Legal Argument: Research Trends and Application Prospects
Henry Prakken, pp.449-454
PDF
This editorial highlights recent developments and trends in the field of Artificial Intelligence (AI) & Law, including development of computational models of legal argument, rule-based expert systems, information retrieval systems, and the building of practical applications.
---
Reviewed Articles
---
Analysis
Medical Research Governance in Korea: The New Bioethics and Biosafety Amendment Bill (Draft 17-8353), or 'Inertia Reiterated'
Shawn H.E. Harmon and Na-Kyoung Kim, pp.575-582
PDF
Korea has experienced a brief period of high turnover of ideas and reform proposals in the medical law field, which is undergoing a significant transformation in both the clinical and research settings as a result of technological innovations. Just as it seemed a new research regime had been agreed through the combination of the Bioethics and Biosafety Amendment Bill, and the Reproductive Cells Utilisation and Supervision Bill, politics intervened. These proposals, were abandoned and the 'wholesale amendment' of a legal regime that had failed so dramatically to curb the excesses and dishonesty of the 'Hwang era' was abandoned with them. This analysis piece examines the new Bioethics Amendment Bill (Draft 17-8353), which was immediately thereafter introduced and adopted in Korea, and it considers whether the conclusions reached in the authors' previous article in this journal – "A Tale of Two Standards: Drift and Inertia in Modern Korean Medical Law" – are still supported in the new medical research setting.
Patentability of Biological Material(s) – Essentially, Therapeutic Antibodies – in India
Swarup Kumar, pp.583-593
PDF
Indian patent practice and jurisprudence with respect to biological materials (including antibodies) is relatively new and thus not well-settled and/or uniform, unlike in the USA or Europe. In these circumstances, presenting a concrete picture re patenting of monoclonal antibodies in India is not feasible at this stage. Notwithstanding this constraint, this analysis presents various techno-legal issues that arise and which need to be addressed – vis-à-vis patenting of biotechnological inventions. Like any other field of invention, biological materials – such as therapeutic antibodies against a protein or genetic sequence – are generally considered patentable and qualify as an invention in India so long as such antibody gene sequence(s) or amino acid sequence(s) are (1) novel, (2) involve an inventive step, and (3) are capable of industrial application. However, notwithstanding compliance with these three cardinal requirements, an isolated biological material in contradistinction to a modified (genetically or otherwise) biological material is still considered prima facie not to fulfill the requirement of patentability by the Indian Patent Office (IPO). In short, merely discovered (isolated) antibodies are considered not to constitute patentable subject matter per se by the IPO even though such antibodies are identified by the specific functions they are capable of facilitating or carrying out. Conversely, if a biological material is one which has been (genetically) modified (preferably through substantial human intervention), it fulfils these requirements, and will likely be regarded favourably by the IPO. In fact, subject also to the satisfaction of the other technical and formal requirements laid down by the Patent Act 1970, such biological material will have a reasonable chance of qualifying as patentable subject matter.
---
Reports
Norwegian Research Center for Computers and Law (NRCCL)
Dag Wiese Schartum, pp.594-599
PDF
The ESRC Centre for Social and Economic Research on Innovation in Genomics (Innogen)
David Wield, pp.600-605
PDF
---
Book Reviews