(2008) 5:2 SCRIPTed 227–448
Issue DOI: 10.2966/scrip.050208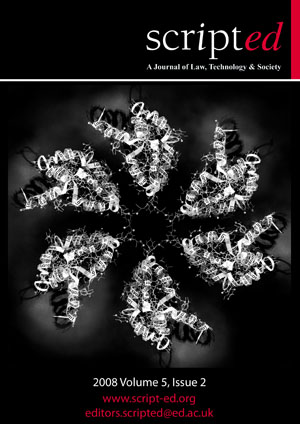 Cover image
Word Protein
Eveline Kolijn

Most contemporary art on (human body) bio-engineering is a critical comment on modern research involving genetic manipulation. Word Protein is an example of such comment; it is an artistic investigation of form and pattern in nature, and the dialectic between man and machine. This particular piece is a photograph of a protein that is part of a bacterium chosen by poet Christian Bök to realise the Xenotext Experiment project (see the Editorial).
---
Editorial
The Xenotext Experiment
Christian Bök, pp.227-231
PDF
The degree to which the biochemistry of living things has become a potential substrate for inscription is increasingly debated. Not simply a code that governs both the development of an organism and the maintenance of its function, the genome can now become a vector for modes of artistic innovation and cultural expression. In the future, genetics might lend a possible, literary dimension to biology, granting every geneticist the power to become a poet in the medium of life. In this spirit, the Xenotext Experiment is a literary exercise that explores the aesthetic potential of genetics in the modern milieu, doing so in order to make literal the renowned aphorism that "the word is now a virus".
---
Reviewed Articles
---
Analysis
"Just One of the Challenges of 21st-Century Life": Oscar Pistorius in the Court of Arbitration for Sport
David McArdle, pp.404-413
PDF
On May 16th 2008, the Court of Arbitration for Sport handed down its decision in Oscar Pistorius v The International Association of Athletics Federations. Pistorius is a class-43 (double amputee) athlete from South Africa, born in November 1986. His legs were amputated below the knees when he was 11 months old because he had been born without fibulas (a lower-leg bone which supports about 15% of an adult's body weight). He started running at the beginning 2004 to assist his rehabilitation from a serious rugby injury, but such was his progress in the discipline that he competed in the September 2004 paralympics, using prosthetic titanium lower legs manufactured by a company in Iceland. He came first in the 200m. At the 2006 Athletics World Championships he won gold medals in the 100, 200 and 400m events and he remains the world record holder at all those distances for class-43 athletes. Pistorius asked to be considered for selection in South Africa's 2008 Olympic squad in the 400m and in the 4 x 400m relay, using his prostheses but in all other respects running on equal terms against the other participants.
A Closer Look at the Canadian Copyright Act: Can Corporations Hold Moral Rights?
Emir A C Mohammed, pp.414-418
PDF
Traditional wisdom holds that moral rights are personal rights and therefore cannot be held by a corporation. This submission challenges both views. It aims to show that in Canada, moral rights are not entirely personal in nature, and that corporations can indeed hold moral rights.
The Internet: Where Did IT All Go Wrong?
Robert Schifreen, pp.419-427
PDF
It is hard to imagine life today without the Internet, and all of the benefits that it brings to our business and personal lives: convenient, cheap and instant communication across time zones and national boundaries; online shopping and banking; document and data exchange without the need to ship media; collaborative working and online entertainment; and free access to more information than previous generations could ever have dreamed of. This analysis assesses the various ways in which the Internet has changed our lives, and the problems that it has brought. It also offers suggestions and advice as to how the effects of those problems can be mitigated in the future.
---
Reports
Institute for Science, Ethics and Innovation (iSEI)
Muireann Quigley and Sarah Chan, pp.428-431
PDF
---
Book Reviews