(2007) 4:4 SCRIPTed 301–498
Issue DOI: 10.2966/scrip.040407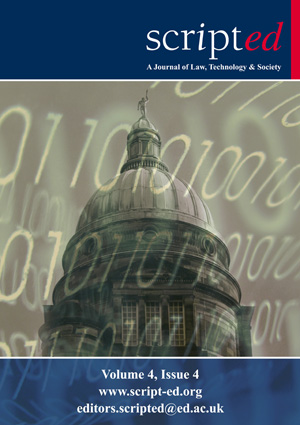 Cover image
The Two Homes of SCRIPTed
Wiebke Abel, Shawn H.E. Harmon and Julie Robinson

This image, The Two Homes of SCRIPTed, depicts the foundational and the ethereal, both integral to the journal. The dome of Old College at the University of Edinburgh represents its real-world home and physical anchor. The binary code represents its content and the dynamism inherent in online publishing. The grey background represents the typical leaden skies of Scotland.
---
Editorial
---
Peer-Reviewed Articles
---
Analysis
Robots Bowling Alone: Evolving Post-Technological Humans
David Koepsell, pp.462-467
It is clear that some are more adaptive to the rate of technological progress than others. Popular culture and homes across America are rife with angst and alienation. Look for the flashing "12:00" beacons on underused DVD players, or more likely, VHS players – or maybe even Betamax. Our technology is not comfortably integrated with our lives if we fear programming a mere clock. Even among those of us who feel comfortably integrated with our technologies, it is safe to say that there is creeping alienation in the sense that the technology sometimes overwhelms the "human" in uncomfortable ways. Things move too fast, we become inundated, our senses are overwhelmed, and our face-to-face human relationships take a back seat, sometimes.
Copyright and Research: A Different Perspective
Jan Velterop, pp.468-472
Recently, two articles have appeared in SCRIPTed on 'Copyright and Research'. One by Kevin Taylor, giving the perspective of an academic publisher (SCRIPTed 4:2), and one by Andrew Adams, from the perspective of an 'archivangelist' (SCRIPTed 4:3). The latter is a critique of the former. Neither article sheds much light on the role copyright actually plays in publishing research results in peer-reviewed journals. Taylor brings authors' remuneration into the discussion, a concept quite alien to most primary research literature, where recognition and citation are the coin of the realm, and Adams seems to argue that copyright somehow impedes open access without explaining how or why that should be the case. This brief article aims to address the actual role copyright plays in the primary research literature and the appropriateness of that role.
---
Reports
---
Book Reviews