(2014) 11:3 SCRIPTed 206–343
Issue DOI: 10.2966/scrip.110314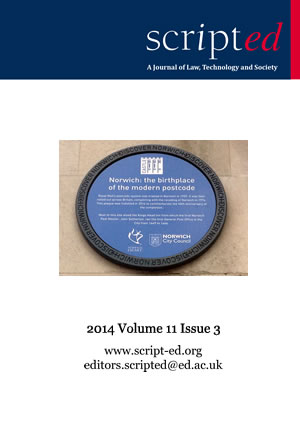 Cover image
NOR
Karen Mc Cullagh

A plaque erected by Norwich Heritage Economic and Regeneration Trust (HEART) on Gentleman's Walk in Norwich in April 2014, marking the 40th anniversary of the introduction of postcodes in the United Kingdom. Norwich's role in this project, and its relevance for law and technology today, is discussed in this issue's editorial by Karen Mc Cullagh and Daithí Mac Síthigh
---
Editorial
Doing the Right Thing?
Karen Mc Cullagh and Daithí Mac Síthigh pp.206-209
HTML | PDF
The 29th annual conference of the British & Irish Law, Education and Technology Association (BILETA) was hosted by Dr Karen Mc Cullagh (co-editor of this special edition) at the University of East Anglia in the city of Norwich, 14-16th April 2014. Some of the best papers from the conference are brought together here in this special edition of SCRIPT-ed.
---
Dedicated BILETA section

---
Analysis
Can CSIRTs Lawfully Scan for Vulnerabilities?
Andrew Cormack, pp.308-319
HTML | PDF
Security teams routinely scan their own networks to identify computers that may be vulnerable to attacks that would damage the organisation's information or services. However, the discovery in early 2014 of the widespread Network Time Protocol (NTP) reflection and Heartbleed vulnerabilities highlighted that serious risks to information and systems can also result from vulnerable systems outside the organisation's network. Security teams would like to identify these vulnerable systems, both to prepare their own defences and to try to warn the systems' operators to fix the vulnerabilities. It is far from clear, however, whether UK criminal law permits scanning of external systems.This paper considers the unauthorised access offences contained in the UK Computer Misuse Act 1990 and the few reported cases. It concludes that scanning to determine whether or not a computer is vulnerable probably does constitute "access" and for an external computer is unlikely to be explicitly "authorised". However actions that have been accepted by courts as lawful (sending an e-mail and visiting a website) indicate that authorisation may also be implicit. Theories of cyberproperty and cases under the US Computer Fraud and Abuse Act, including the historic US v Morris, suggest that connecting a computer or service to the Internet does implicitly authorise actions related to the intended function of that service. This appears consistent with the UK decisions in Lennon and Cuthbert and implies that while scanning for NTP reflection vulnerabilities should be lawful, testing for Heartbleed probably is not.
---
Report

---
Book Reviews