(2014) 11:2 SCRIPTed 145–205
Issue DOI: 10.2966/scrip.110214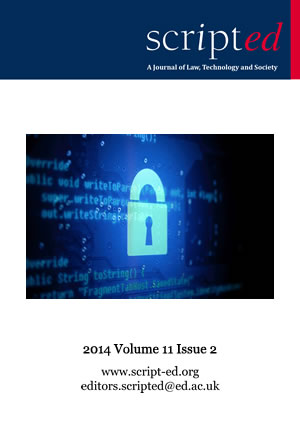 Cover image
---
Editorial
"Theirs' not to make reply, Theirs' not to reason why"- a workshop report on Big Data, forensic reasoning and the trial
Burkhard Schafer, pp.145-152
| HTML | PDF |
Over the last few years, "Big Data", has emerged as a major topic in the discussion on the future of the internet and an internet driven economy.
---
Reviewed Article

Delineating the Reach of Internet Intermediaries' Content Blocking – "ccTLD Blocking", "Strict Geo-location Blocking" or a "Country Lens Approach"?
Dan Jerker B. Svantesson, pp.153-170
| HTML | PDF |
There is a prominent trend of legal actions being taken against globally active Internet intermediaries. This article discusses the extent to which Internet intermediaries should be required to block or remove third-party content, and places emphasis on the geographical limitations that reasonably may be placed on such blocking/removal.
Where an Internet intermediary is ordered to block or remove certain Internet content, global blocking/removal cannot be the default response to every such order. We need a more measured and more sophisticated approach.
This paper canvasses and analyses three such structures. One option is to delineate the reach of the blocking/removal by reference to country code Top-Level Domains (ccTLDs) – "ccTLD-blocking". For example, where a French court requests that Google blocks/removes content in France, Google may do so in relation to www.google.fr, while the relevant content is unmodified for the rest of the world.
Yet, it is also necessary to look beyond ccTLD-blocking. Geo-location technologies may determine an Internet user's geographical location, for example, by reference to the user's IP address. Such technologies can, of course, be used to delineate the accessibility of Internet content. Indeed, such technologies can be used in various ways to achieve such a result and I will consider both a "strict geo-location blocking" and a more nuanced "country lens" approach.
To prepare ground for that discussion, the article first starts with a few appropriate words about the role Internet intermediaries play and why litigants target Internet intermediaries in the first place.
---
Analysis

---
Analysis: Research Ethics from the Japanese Perspective

Return of Genetic Research Results: The Japanese Experience and its Implications for the International Debate
Jusaku Minari, Donald Chalmers, Kazuto Kato, pp.180-192
| HTML | PDF |
In conducting medical and genetic research an ethical dilemma is faced as to whether individual genetic research results should be disclosed where such results may be relevant to the consideration of an individual's health and medical care. Japan's participation in this debate has yielded no consensus on policy as yet but has influenced the establishment of certain national guidelines. Japan established principles in 2000 that emphasized participants' rights to know their genetic research results, and incorporated this policy into governmental guidelines for genetic/genomic research in 2001, as the stance of "disclosure in principle". The newly-revised guidelines in 2013 retained the "disclosure in principle", and added stipulations regarding disclosure giving a greater role to researchers in creating disclosure policies of genetic research results. The process of their revisions was strongly influenced by the Act on the Protection of Personal Information 2003. This article considers the management of clinically significant findings in the context of the revision of the genetic/genomic research guidelines. We argue that the governmental guidelines based on the Act have the potential to give rise to practical and ethical challenges, which suggest the clear need for additional mechanisms for governing disclosure decisions. This method includes that the revised Guidelines can be interpreted to permit genomics researchers to adopt more active research disclosure policies with more participant-focused ethical consideration. This is consistent with researchers' ethical responsibilities to carefully consider the rights and interests of research participants to ensure the public's trust and confidence in research is maintained. The Japanese experience has implications for the international debate, as there is, as yet no clear and agreed guidance for researchers determining policies on the return of research results in other countries.
---
Report

---
Book Reviews

Data Privacy Law: An International Perspective
By Lee Andrew Bygrave
Reviewed by Calum Liddle, pp.196-199
| HTML | PDF |
Information Technology Law: The Law and Society
By Andrew Murray
Reviewed by Emma Linklater, pp.200-202
| HTML | PDF |