(2013) 10:1 SCRIPTed 1–139
Issue DOI: 10.2966/scrip.100113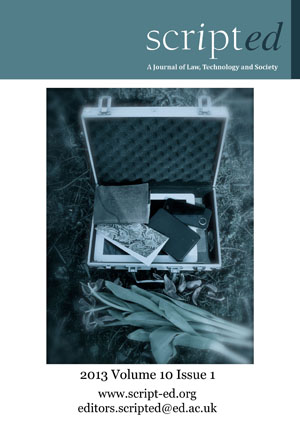 Cover image
Post-mortem Privacy
Nayha Sethi

The image was inspired by the idea that in an ever-evolving technological world, when we are buried, it is more and more difficult for our secrets and for that which we wish to remain private to be buried and to stay buried with us.
---
Editorial
---
Dedicated Section on Post Mortem Privacy
---
Reviewed Articles

Public Service Broadcasters or Government Mouthpieces – An Appraisal Of Public Service Broadcasting in Botswana
Tachilisa Badala Balule, pp.77-92
| HTML | PDF |
Public service broadcasting is a critical component of modern democratic societies. These broadcasters are expected to serve the general public interest by providing for the informational needs and interests of citizens in order to empower them to participate in public life. A public service broadcaster is therefore a national asset that must be independent of both political and commercial pressures in the performance of its mandate. The institution must never be used as a government mouthpiece whereby it will only serve the interests of the government of the day. A public service broadcaster thus requires a particular legal framework and certain structural attributes to enable it to execute its mandate effectively. This article examines public service broadcasting in Botswana and interrogates the question of whether or not the legal and policy framework in the country recognises this concept, and if so, whether or not the framework in place is appropriate for the effective delivery of a true public service broadcasting mandate.
Enhancing Data Protection and Data Processing in the Public Sector: The Critical Role of Proportionality and the Public Interest
Gillian Black and Leslie Stevens, pp.93-122
| HTML | PDF |
Data protection in the public sector has suffered from a number of high profile breaches over the last decade, revealing a culture of weak compliance, especially in comparison with that in the private sector. This article examines certain factors which make public sector data processing distinct, and how the lack of clarity regarding the routes to legitimate processing may be exacerbating these problems. By closely examining the jurisprudence regarding Schedule 2 of the Data Protection Act 1998, which provides the legitimate bases for data processing, we reveal the current problems public sector data controllers face in determining whether their processing is "necessary" and therefore legitimate. We determine that the test of necessity is reliant on proportionality, requiring the interest in processing the personal data to be balanced against the data subjects' data protection and privacy interests.  This in turn requires a detailed consideration of the public interests at stake, in providing the public services and respecting the personal data involved.  We conclude by providing a structured and coherent three-step test for data controllers to apply in reaching their decision.  This test focuses on the critical issues in balancing the competing interests, enabling data controllers to take a principle-based decision as to whether or not their processing is indeed in the public interest, proportionate and necessary – and therefore ultimately legitimate.  This three-step test offers greater clarity for data controllers, which in turn should enhance the rigour of their data processing, thereby strengthening the data protection culture and benefiting data controllers, data subjects, and the public at large.
---
Reports
---
Book Reviews
A Human Right to Participate in the Information Society
By Alan McKenna
Reviewed by Mariona Rosell Llorens, pp.129-132
| HTML | PDF |
Exclusions From Patentability 
By Sigrid Sterckx and Julian Cockbain (ed)
Reviewed by Maureen O'Sullivan pp.133-135
| HTML | PDF |